Aula Alayoubi, Fruit of Heaven
John Hayes-Nikas, The Return
Susan Swinand, All Together Now
Artists' reception: October 6, 2017
6:00 to 8:00 PM
October 6 through November 4, 2017
Aula Alayoubi's mysterious acrylic paintings use two forms, the female body and the pomegranate, to explore ideas of earthly loss and heavenly reward. With map-lines and traditional engravings marking their faces and limbs, the gorgeous female figures dominating these canvases represent Damascus, Alayoubi's native city. Pomegranates traditionally signify love, fertility, and knowledge, but also invoke the heavenly rewards promised in death to radicalized soldiers. This fruit, and the distorted, mournful figures holding it, tell a cautionary tale of beauty, loss, and memory.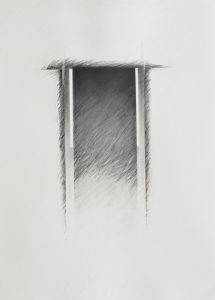 John Hayes-Nikas' series of large graphite drawings are rendered with elegant abstract formalism. With their subtle contrast between clearly-delineated negative space and more gestural strokes, the works invoke aspects of early Cubism, while the mysterious push and pull of the dark forms reference pre-Christian sacred spaces.
Susan Swinand's series of whimsical drawings take a line of for a walk through the subconscious. Ordinary objects and abstract shapes bubble and bounce around each other, producing a jolly stream-of-conscious effect.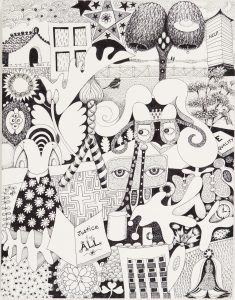 The small scale and precision of these drawings, however, belie the complex, if merry, universes they contain, in which all things are interrelated and interdependent.
Parking for the opening reception is free in the paved lots belonging to the Freemasons at Ionic and Beacon Street. As part of our ongoing partnership program with local restaurants and food purveyors, Ed Hyder's Mediterranean Marketplace will sponsor the appetizers; music by Jose Castillo.
Aula Alayoubi, Blue Pomegrante, acrylic on canvas, 25″x39″
John Hayes-Nikas, Dromos of Atreus, graphite and ink on paper, 30″x22″
Susan Swinand, Justice For All, ink on clayboard, 18″x14″

Image details on the home page:
Aula Alayoubi, A Nymph with Pomegrante, acrylic on canvas, 25″x29″
John Hayes-Nikas, The Alsatian ou Eisaccich, graphite and ink on paper, 30″x22″
Susan Swinand, Truth, ink on clayboard, 18″x14″
Art On The Line
November 4, 2017

E Pluribus Unum: A Members' Exhibition in Collaboration with the Fitchburg Art Museum
Opening: November 17, 2017
November 17 through December 16, 2017
Present Tense Prize Winner: Colleen Fitzgerald, Stamina
The Fourteenth Annual College Show
Opening: February 2, 2018
February 2 through March 2, 2018

After A Fashion
A Members' Exhibition
Opening: March 16, 2018
March 16 through April 20, 2018

Carrie Crane, Becoming Truth
Madge Evers, Sporeplay
Catherine Wilcox-Titus, Primal Waters
Opening: May 4, 2018
May 4 through May 26, 2018
The Sixth Annual "One" Members' Exhibition
Opening: June 15, 2018
June 15, 2018 through June 30, 2018