The Fourteenth Annual College Show
Colleen Fitzgerald: Stamina
February 2 through March 2, 2018
Opening Reception: Friday, February 2, 2018
5:30 to 8:00 PM
Colleen Fitzgerald: Stamina
Colleen Fitzgerald is this year's winner of our Present Tense Prize, which recognizes regional artists whose work incorporates new technologies and artistic risk-taking with excellence in execution. In her works, she manipulates film both pre- and post-exposure into three-dimensional shapes, blurring the distinction between sculpture and photography.
The series Stamina consists of images created by using the materials and tools of photography in non-traditional ways. Unexposed film is cut and molded into three-dimensional shapes and exposed inside a camera specially outfitted with a custom film holder. This holder accepts the film as an object instead of as a standard, flat, two-dimensional sheet. The film-object can also be further shaped and manipulated after exposure, before being re-photographed and printed. Due to the optics involved, the results can appear stretched and distorted. The subjects pictured in this way seem as unusual as they are familiar, testing the boundaries and endurance of film and camera.
Images on homepage and above: from Goals/Boundaries series, pigment print
Fourteenth Annual College Show
We are pleased to recognize emerging student artists whose works were selected for the Fourteenth Annual College Show. This event, juried by independent curator Mary Tinti, features the best artwork of the Worcester Area's college students, regardless of their major. The selection process was highly competitive, with just 65 works selected from 253 submissions.
Awards, which come with cash prizes, will be announced at the opening reception on February 2, 2018.
Image above: Matthew Brown, This Happens, polymer, tinfoil and glue on wood and glass domes, 4.5 x 7″, College of the Holy Cross '18
Image on homepage: Suzanne Pekar, Orbit, photograph, 24 x 36″, Anna Maria College '18
Featured Artists:
Ellen Arellana, of Aurora, CO, student at Clark University
Kassidy Benzing-Plourde, of Wallingford, CT, student at Clark University
Caroline Bercier, of Oxford, MA, student at Assumption College
Francisco Borges-Rivera, of Worcester, MA, student at Clark University
Shannon Briden, of Rumford, RI, student at Clark University
Matthew Brown, of Worcester, MA student at the College of the Holy Cross
Julie Chlapowski, of Thompson, CT, student at Assumption College
Christian Copeley, of Worcester, MA, student at Assumption College
Erin Cunningham, of Worcester, MA, student at the College of the Holy Cross
Isabel Dawson, of Worcester, MA, student at the College of the Holy Cross
Gage Domhoff, of Dallas, TX, student at Becker College
Trang Duong, of Worcester, MA, student at Worcester State University
Amanda Ezeobiejesi, of Worcester, MA, student at Worcester Polytechnic Institute
Rebecca Foti, of Bedford, NH, student at Anna Maria College
Angeline Gallant, of Shrewsbury, MA, student at Worcester State University
Craig Graceffo, of Worcester, MA, student at New England School of Acupuncture/MCPHS
Murphy Grady, of Darien, CT, student at the College Of The Holy Cross
Rachel Gray, of New York, NY, student at Clark University
Samuel Harnois, of Shrewsbury, MA, student at Worcester State University
Ryan Hatfield, of Quincy, MA, student at the College of the Holy Cross
Jacob Houghton, of Franklin, MA, student at Becker College
Nicolas Kruzel, of Chicopee, MA, student at Becker College
Kaylyn Landahl, of Brookfield, IL, student at Clark University
Grant Madigan-Kolstad, of Worcester, MA, student at Clark University
Matthew McNickles, of Sutton, MA, student at Worcester State University
Chaimaa Medhat, of Worcester, MA, student at Clark University
Fadwa Mekkaoui, of Bolton, MA, student at Worcester State University
Dana Mendes, of Merrimack, NH, student at Assumption College
Sam Mescon, of Florence, MA, student at Clark University
Joseph Metrano, of Worcester, MA, student at the College of the Holy Cross
Julia Minichello, of Norwell, MA, student at Assumption College
Isabel Miranda, of Worcester, MA, student at Clark University
Matthew Mitera, of Belchertown, MA, student at Anna Maria College
Ann Mondi, of Worcester, MA, student at the College of the Holy Cross
Hannah Muggeo, of Uxbridge, MA, student at Worcester State University
Mae-Chu O'Connell, of Winchester, MA, student at the College of the Holy Cross
Suzanne Pekar, of North Kingstown, RI, student at Anna Maria College
Helen Perham, of Greenfield, MA, student at Clark University
Erin Reid, of Oxford, MA, student at Worcester State University
Johanna Riddle, of Charlton, MA, student at Worcester State University
Teide Riley-McNary, of Worcester, MA, student at Clark University
Jared Rooney, of Plymouth, MA, student at Worcester State University
Herman Servatius, of Worcester, MA, student at Worcester State University
Maura Sheehan, of Westminster, MA, student at Worcester State University
Jaclyn Shenian, of Whitinsville, MA, student at Assumption College
Mal Sklar, of Worcester, MA, student at Clark University
Miranda Smerling, of Worcester, MA, student at Clark University
Julianne Stone, of Millis, MA, student at Becker College
Hayley Sutherland, of Tewksbury, MA, student at Worcester State University
Hope Sutton, of Hollis, NH, student at Assumption College
Michael Tortora, of Worcester, MA, student at Assumption College
Emily Velasquez, of Dedham, MA, student at Clark University
Megan Viera, of Worcester, MA, student at the College of the Holy Cross
Katie-Li Walker, of Youngsville, LA, student at the College of the Holy Cross
Cole Walling, of Shrewsbury, MA, student at Anna Maria College
Demetrius Wilson, of Worcester, MA, student at the College of the Holy Cross
Amy Wong, of Worcester, MA, student at Clark University
Mengqi Wu, of Worcester, MA, student at the College of the Holy Cross
Kristi Xhelili, of Worcester, MA, student at Clark University
Sincere thanks to our generous sponsors for this event: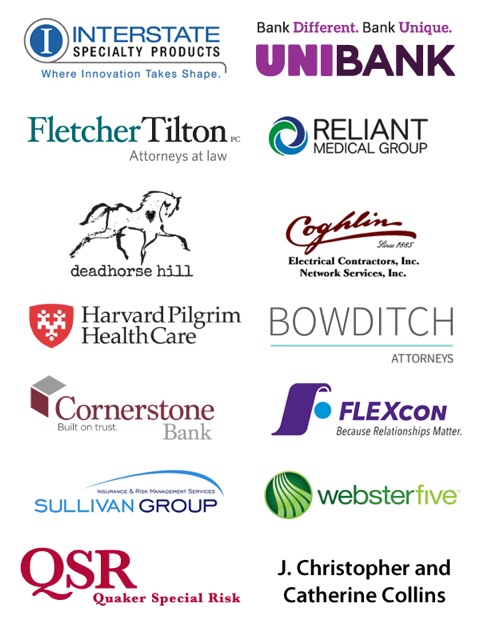 After A Fashion
A Members' Exhibition
Opening: March 16, 2018
March 16 through April 20, 2018

Carrie Crane, Becoming Truth
Madge Evers, Sporeplay
Catherine Wilcox-Titus, Primal Waters
Opening: May 4, 2018
May 4 through May 26, 2018
The Sixth Annual "One" Members' Exhibition
Opening: June 15, 2018
June 15, 2018 through June 30, 2018