Call for Art: The Sixth Annual One
Join ArtsWorcester's summer tradition and submit to The Sixth Annual One! The call for this non-juried and non-themed exhibition is open to all current members. Bring us the single piece you want to exhibit most, regardless of medium or theme. Size and weight limitations apply. See the submission page for more details.
Thanks to the generosity of individual donors, five hundred dollars in prizes will be awarded to the artists exhibiting in One. This year's awardees will be selected by Lauren Riviello, Executive Director of the Brookline Arts Center.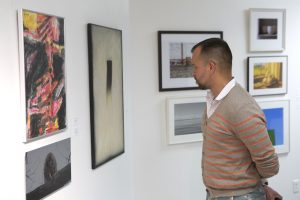 Please register your artwork online by May 30. 
Delivery of Artwork
Wednesday, May 30 – Saturday, June 2, 2018
12:00pm – 4:00pm
and by appointment
Opening Reception
Friday, June 15, 2018
6:00pm – 9:00pm
Gallery Hours
Thursday, Friday, Saturday
12:00pm – 4:00pm
and by appointment
Collection of Unsold Artwork
Wednesday, July 11 – Saturday, July 14, 2018
12:00pm – 4:00pm
and by appointment
Questions? Call us at 508. 755. 5142, or send us an email: info@artsworcester.org