Saturday, November 4, 5:00 to 7:00 PM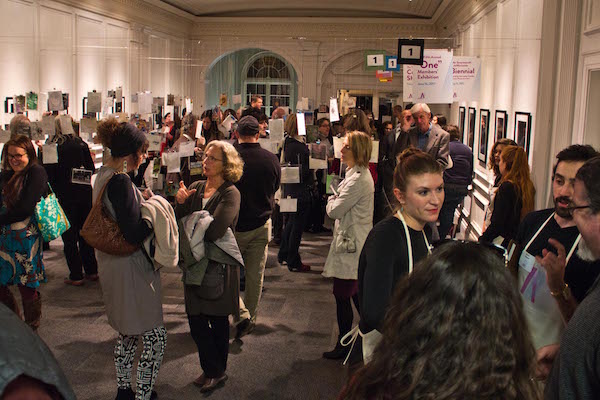 4:30 PM: Lines begin forming
5:00 PM: First-In-Line ticket holders admitted
5:20 PM: Next-In-Line ticket holders admitted (free to college students with ID)
660 Main Street
Hundreds of original 5″x7″ and 8″x10″ artworks, suspended in the gallery and sold for $20 and $30 each.
Get a First-In-Line ticket for priority admission and the best chance at the ones you want.
In October, the online catalogues of all the work will be on line for you to shop in advance!
Pick your favorites, and dash to the lines for them!
Try your luck at a raffle for one of ten artworks by leading artists.
Music by Organic Chemistry, food from Niche Hospitality, and more.
Come out and snap up a piece for yourself or someone else. It's all on the line.
Buy your First In Line tickets now.
Not in a big hurry? Get Next In Line tickets, and enjoy it all except for the mad dash.
Save yourself time and buy raffle tickets in advance. They'll be at the raffle table waiting for you.